Shout out
What is a Shout Out?
A shoutout is a manner to promote your event or artwork on an Influencer's Instagram account. The account will post an image or a video and expose you to their audience. 
The benefits are:
you gain new followers,
your work is out to a wider audience in the same niche (sector you are, either art or photography or visual art),
it is relatively cheap compared to self-promoting via Instagram advertising. You need to know how "an advert" works and to target really precisely who needs to see your post.
Factors for a successful shoutout:
The number of followers from the Influencer's account must be bigger than yours, with a high engagement rate, split to the target geo-demographic (age, gender, location - cities and interest).
A good audience quality is requested!
How does it work?
The Influencer will re-post your content at the best for their audience.
The caption should call to action to either follow you or go to your website.
The Influencer can place your link in their "link in bio" and invite their viewer to go to check out your website.
A Shout Out works better if multiple Influencers or people are sharing your content at the same time.
Best time to post is paramount
The engagement generally happens within two hours and then, it's finished.


A high or higher engagement rate
An Influencer account should have at least 5% engagement rate (depending on the size) and more followers than you or a better quality of followers.
The number of followers is not that important.
For example, my personal account will be always kept between 3.5k to max 5k.
@youngmi.lamine is a nano Influencer account with 12% engagement rate, followed by galleries and collectors, and who counts in the art world.
On 11 Jan 2019


The quality of engagement is better than the number of followers
For example, THoTA results are better than @Arttyco (with 93.2k followers) 👇
Jessie Pitt - 5 October 2018


Michal Slezkin - 21 November 2018


Fake Influencers
Nowadays, it's easy to impress with the numbers of followers and tweak the engagement rate by participating in PODs.
Unfortunately, those fake followers just take your money and the result for you is a gap in your wallet.
How to check if your Influencers are real?
There are many sites available to check if your Influencer got a real follower-base, such as HyperAuditor.
It will point out any "abnormal" activity. And, most importantly, the quality of the audience.
Some poor results may come from shadow ban, massive following/unfollowing pattern or not posting enough, and fake emoji's comments.
Real influencers
You will find that any real influencers who work at ensuring their audience is genuine, will attain scores of 80 or above. Anybody who scores poorly (less than 50) would be of little value to your shoutout, and a potential waste of your investment if you were to pay them to promote your event or artwork. 
Macro Influencers
It costs a leg to be published on Artsy or Art Basel, and the end result might be a bit disappointing.
Huge accounts are less efficient than nano or micro Influencers.
👉 Go to:
Nano Influencer is max 5k followers with a reach of 25k and an ER of 10%+
or Micro Influencer is from 10k to 100k followers with a reach of 250k and an ER of 7%.
And, of course, there are tons of spammy accounts following those accounts above. From replica shops to estate agents or insurances... 😜 Therefore, mass following those accounts is a waste of time!


The Cheaters
I am on Instagram for about 3 years now, so I know who cheated and bought fake followers. From collectors and art advisors to galleries and art fairs, lot of people are tempted to have a "look good" but then it reflects on a poor ER.
Here are the usual suspects.


Don't buy any followers - ever!
Once you pay for followers, you need to continue paying for the engagement. The new Instagram algorithm can detect fake like and comments; and remove them! 
And, I remind you that Instagram may delete your profile even if you have 850k followers.


Analyse before
Research first before paying US$10 for a promising Shout Out, you may end up with followers from remote countries.
There is no such practice at THoTA, everything is 100% organic and real followers. THoTA will never add up 100 of Brazilians, Russians or Egyptians to your account. This is the main reason, I am focusing on the engagement rate!


Everyone Suffers From Fake Instagram Followers
The days are long gone since you could say, "It must be true - I read it on the internet." You cannot just assume that if somebody claims they large numbers of followers on Instagram, that these people take any interest in the person's account - or indeed that these followers are real people at all.
Unscrupulous people boost their follower numbers by buying followers. Sometimes these are real people, happy to earn extra cash. Other times these are fake accounts set up by bots. No matter how they are created, the fake followers will not engage with the "influencer's" posts in any way and are of no value to a brand wanting to work with him or her.
Instagram (or indeed the other social networks) cannot eliminate all fake accounts. Determined scammers will always find a way around any security mechanisms Instagram can put in place. So it is up to brands (and indeed genuine influencers) to hunt out and find fake followers.
It is important to remember that it is not just people wanting to inflate their follower lists who have fake followers. Virtually everybody on Instagram has some. This includes genuine influencers (and probably your own account). That is why it is unlikely that our Audience Credibility Checker [Bot Checker] will show your account as having 100% credible followers. 
In 18 November 2018, even @thehouseoftheartists.official has to track down 2.6k "un-engaged followers" and my personal account @youngmi.lamine need to be cleaned by 661 people. This has been dealt with quickly and surely.
And, this is reflected in my followers graph with peak down and peak up. The look of a stagnant account, in fact I've got more than 800 new followers per month, but I remove and lost equal numbers.
I never think that gaining followers is a problem, the real question is about the quality of those followers. And, I choose who I let follow me. I regularly remove ghosts and laggers since they do nothing for my engagement rate.


Case Study
To summarise the theory, I will in August perform a major shout out for @LeenaMertanen
I have already prepared the future "Shout Out" campaign with her.
As explained above, the shoutout power is wearing off after 2 hrs.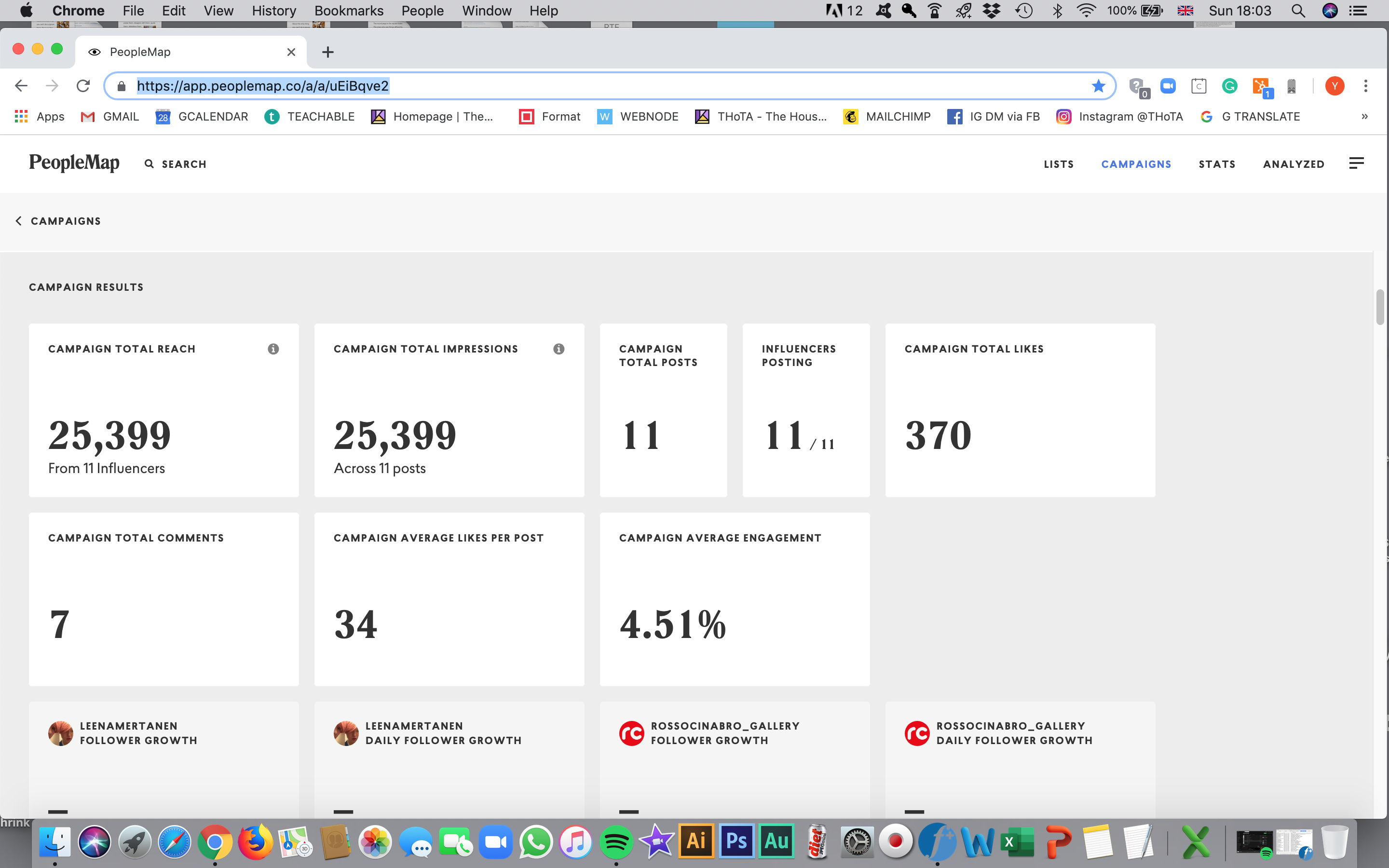 What happened during the campaign?
My personal account was shadowbanned for 7 days.
Leena account was shadowbanned for 2 days.
Results after a week
As you can see my personal profile is doing better than THoTA official account. Before it used to be equal.
Do you understand now, why engagement is key? with or without shadowban, my personal profile is still more engaged. This is the kind of Influencer you want for your ShoutOuts.
Particularly now, that Instagram barely shows your content to 10% of your audience.
I've also added her website link to my Linktr.ee and 4 click on her website.
And, as I use IFTT, all my Instagram posts are re-published on FB, LI and TW.
Here are the results of the posts on Instagram 👇
And, here are the results of the 15 Stories on 5 Instagram accounts. 👇
What is important to ask to person who will do a ShoutOut for you?
Their Insights about their audience:
What are:
the 3 top locations - cities / countries?
the age range?
Engagement rate?
Average likes received in 1 hour?
will they put your weblink in their bio and invite the viewer to go and click?
What time in their local time will they post => change into yours
Will they repost from you or do you need to send them a caption?
Will they tag you on the image of the Post (not only a @xxx in the caption)?
How long will they keep your post for?
How much do they ask?
And, this should tell you if the Shout Out worths the money or not.
A quick calculation: price shout out / nr of reach = X (cost of per person who viewed your post)
The closest to 0.0000000001 the better!
This is when you realise that a good Shout Out can be cheaper than any promotion or advert on Instagram.
In the case of Leena Mertanen: £40 / 2,288 likes = 0.01748 per like
But the best measure is the Reach (unique people): £40 / 25,399 = 0.00157 per person
I have done a promotion on Instagram on a post that reached 1k likes.
£ 20 / 1,034 likes = £ 0.1934 per like. It could be better. 👇 
Do you have any question? Ask me below 👇
---
THoTA needs your support to keep delivering quality blog, to maintain our openness and to protect our precious independence. Every reader contribution, big or small, is so valuable.
 Support The House of The Artists from as little as £1 – and it only takes a minute. Thank you.